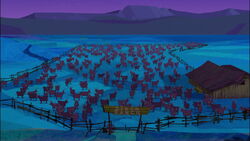 Dixon Ranch is a farm in Home on the Range. It is where Maggie used to live until she moved into Little Patch of Heaven, owned by Pearl Gesner, after Alameda Slim stole the entire cattle. The farm was later sold to Alameda Slim under his disguise as Yancy O'del. It is unknown what happened to the Dixon Ranch after Alameda Slim has been arrested when he tried to buy Little Patch of Heaven.
Ad blocker interference detected!
Wikia is a free-to-use site that makes money from advertising. We have a modified experience for viewers using ad blockers

Wikia is not accessible if you've made further modifications. Remove the custom ad blocker rule(s) and the page will load as expected.