Ad blocker interference detected!
Wikia is a free-to-use site that makes money from advertising. We have a modified experience for viewers using ad blockers

Wikia is not accessible if you've made further modifications. Remove the custom ad blocker rule(s) and the page will load as expected.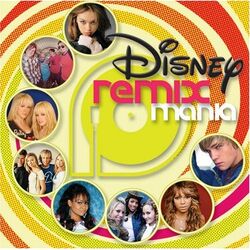 Disneyremixmania is the first remix album in the Disneymania series. It features fourteen songs from the past three volumes remixed to create dance versions of Disney classics. Additionally, there is a fifteenth song, the "Disneyremixmania Mega Mix" contains three Disneymania 3 songs mashed into a medley by DJ Skribble. The album peaked at #146 on the Billboard 200, making it the lowest charting album in the series until Princess Disneymania which peaked at #191 on the Billboard 200. Also, it was the first album in the series to not be certified Gold. It has sold about 50,000 copies in the US which is the second lowest for a Disneymania album, ahead of only Princess Disneymania, which has sold only 9,000 copies in the US.
Track listing
Jesse McCartney - "The 2nd Star to the Right" (Lost Boys Remix) (Peter Pan)- 2:49
The Cheetah Girls - "I Won't Say (I'm in Love)" (Grrl Power Remix) (Hercules)- 2:55
Raven-Symoné - "Under the Sea" (Reggae Remix) (The Little Mermaid)- 2:58
Jump5 - "Hawaiian Roller Coaster Ride" (Mahalo Remix) (Lilo and Stitch)- 3:15
Baha Men - "It's a Small World" (Shorty Remix) - 2:58
Smash Mouth - "I Wanna Be Like You" (Monkey C Remix) (The Jungle Book)- 3:23
Hilary Duff & Haylie Duff - "The Siamese Cat Song" (Cat-Scratch Remix) (Lady and the Tramp)- 2:59
Ashanti & Lil' Sis Shi Shi - "Colors of the Wind" (Soul Sister Remix) (Pocahontas)- 3:52
Disney Channel Circle of Stars - "Circle of Life" (All Star Remix) (The Lion King)- 3:58
Bowling for Soup - "The Bare Necessities" (Jungle Boogie Remix) (The Jungle Book)- 3:20
Skye Sweetnam - "Part of Your World" (C-Girl Rock Remix) (The Little Mermaid)- 2:54
Raven-Symoné - "True to Your Heart" (China Doll Remix) (Mulan)- 3:41
Everlife - "Strangers Like Me" (Jungle Rock Remix) (Tarzan) - 3:38
Lalaine - "Cruella De Vil" (DJ Skribble Spot Remix) (One Hundred and One Dalmatians)- 2:28
Raven-Symoné, The Cheetah Girls & Lalaine - "DJ Skribble Megamix" - 3:07
Chart positions
Chart
Peak
position
Billboard 200
146
Top Kids Audio
2
Top Electronic Albums
2
Top Heatseekers
3
Singles
"Under the Sea (Reggae Mix)" Raven-Symoné
Videos
"DJ Skribble megamix" Raven-Symoné, The Cheetah Girls, Lalaine
"Under the Sea" Raven-Symoné
External links
| | |
| --- | --- |
| | This page uses content from the English Wikipedia. The article or pieces of the original article was at Disneyremixmania. The list of authors can be seen in the page history. As with Disney Wiki, the text of Wikipedia is available under the GNU Free Documentation License. |