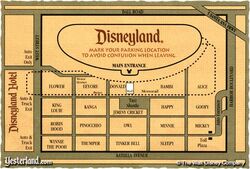 The original Disneyland Parking Lot existed from July 17, 1955 to January 21, 1998, when it was largely closed to make way for Disney California Adventure, Downtown Disney, and Disney's Grand Californian Hotel & Spa.
It was divided into nineteen sections, each one named for a Disney character. The names of the lot's sections included:
The Mickey and Sleepy sections became the Timon Parking Lot in 1998, which operated directly southeast of California Adventure until it was increasingly downsized in 2002 to make room for A Bug's Land, in 2004 for The Twilight Zone Tower of Terror and finally closed altogether on July 6, 2009 for the construction of Cars Land.
A majority of the parking for the Disneyland Resort is now handled by the Mickey Mouse & Friends Parking Structure, a massive six-level parking structure located to the west of Disneyland, across Disneyland Drive (formerly West Street).