Ad blocker interference detected!
Wikia is a free-to-use site that makes money from advertising. We have a modified experience for viewers using ad blockers

Wikia is not accessible if you've made further modifications. Remove the custom ad blocker rule(s) and the page will load as expected.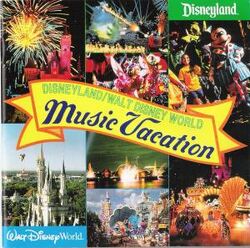 Disneyland/Walt Disney World Music Vacation was a 2-CD set only released in Japan in 1997. It is out of print.
Track listing
Disc one
"Light Magic" – 16:06

DREAM OUR DREAMS FANFARE / OPENING / PLAY ON
Dream Our Dreams Fanfare
Dream Our Dreams Opening Play On
Dream Our Dreams Float / Fiber Reveal
Little April Shower
Pixie Fanfare 1
Be Our Guest
Dream Our Dreams Transition
Be Our Guest
Dream Our Dreams Fanfare
Pixie Dust Reveal
Topsy Turvy
Step In Time
Dream Our Dreams
Pixie Fanfare II
Dream Our Dreams

"Fantasmic!" – 26:00
Fantasmic! Main Theme I
Fantasmic! Main Theme II
I've Got No Strings
Little Wooden Head
Arrangement of Themes
Peter Pan Theme
Elegant Captain Hook
Never Smile at a Crocodile
Fantasmic! Main Theme I
Fantasmic! Main Theme II
Beauty and the Beast
Part of Your World
Someday My Prince Will Come
TRANSFORMATION TO WITCH / MAGIC MIRROR
Underscore
Poor Unfortunate Souls
MALEFICENT & MICKEY PART 1
MALEFICENT & MICKEY PART 2
Underscore
Fantasmic! Main Theme I
Fantasmic! Main Theme I
Fantasmic! Main Theme II
Fantasmic! Main Theme I
Fantasmic! Main Theme II

"Fantasy in the Sky - 1997 Disneyland Version" – 6:10
Let's Go Fly a Kite
Whistle While You Work
Mickey Mouse Club March
Yankee Doodle
America the Beautiful
This Is My Country
God Bless America

"Remember the Magic Parade" – 9:13

Remember The Magic
Join In
Under the Sea
Cinderella
So This Is Love
One Jump Ahead
Friend Like Me

"SpectroMagic" – 7:10

On This Magic Night
Once Upon a Dream
Part of Your World

"IllumiNations25" – 12:04

Remember the Magic
Mascleta / International Movement
We've Just Begun to Dream
Tracks 1 - 3 are from Disneyland
Tracks 4 - 6 are from Walt Disney World Resort
Disc two
"Attractions Medley" – 12:08

FANTASYLAND CASTLE MEDLEY (FANTASYLAND CASTLE) <Walt Disney World>
When You Wish Upon a Star
Once Upon a Dream

ROGER RABBIT'S CARTOON TUNES (ROGER RABBIT'S CARTOON SPIN) <Disneyland>
Spin Street
Dark Alley
Fall to Earth
Acme Warehouse
Hungarian Rhapsody

INDIANA JONES

THE RIDE (INDIANA JONES ADVENTURE) <Disneyland>
Indiana Jones Underscore
Indiana Jones Theme

SEIZE THE FUTURE (ALIEN ENCOUNTER) <Walt Disney World>
TOWER OF TERROR THEME (THE TWILIGHT ZONE TOWER OF TERROR) <Walt Disney World>
Twilight Zone Theme
Tower of Terror Theme

SPACE MOUNTAIN (SPACE MOUNTAIN) <Disneyland>
Production
Executive Producer: Akitoshi Nakata
Album supervised by:
Bruce Healey (Disneyland)
Ted Ricketts (Walt Disney World)
Steve Skorija (Walt Disney World)
Dan Stamper (Walt Disney World)
Production Coordinator: Mika Ashizuka
A&R Director: Hisako Tanaka
Album design by Yumi Kochi
Special thanks to Walt Disney Attractions (Japan)
Disc one
Light Magic

Produced by Bruce Healey
Engineered and Mixed by Paul Freeman
Announcer: Randy Crenshaw
Dream Our Dreams Opening Play On Vocals by Ellis Hall
Dream Our Dreams Vocals by Richard Page

Fantasmic!

Produced by Bruce Healey
Engineered by Don Dorsey

Fantasy in the Sky - 1997 Disneyland Version

Produced by Bruce Healey
Engineered by Paul Freeman

Remember the Magic Parade

Music produced by Dan Stamper
All songs except "Join In" arranged by Gordon Goodwin
"Join In" arranged by Dan Stamper and Gordon Goodwin
Instrumentals performed by The London Studio Orchestra recorded by Chris Dibble at CTS LANSDOWNE STUDIOS, London, England
Conducted by Gordon Goodwin
Vocals recorded by Andy de Ganahl at Starke Lake Studios, Orlando, Florida
Mixed by Eric Shilling at Starke Lake Studios, Orlando, Florida
Edited by Michael Atwell
Vocal solo on "Zip-A-Dee-Doo-Dah": Davonda Simmons.
Voice over: Jim Howard

Featuring the voice talents of
Chorus
Sarah Moore (leader)
Amy Martin-Cole
Michelle Amato
Greg Whipple
Randy Nichols
Scott Harell

SpectroMagic

Mixed by Gary Baldassari at Starke Lake Studios, Orlando, Florida
Digital editing by John Sanborn
Voice over: Kevin Miles

Featuring the voice talents of
Sarah Moore (leader)
Amy Martin-Cole
Michelle Amato
Greg Whipple
Randy Nichols
Scott Harell

IllumiNations25

Music produced by Steve Skorija
Music supervision by Dan Savant
All songs except "Circle of Life" arranged by Gregory Smith
"Circle of Life" arranged by Oliver Wells
Vocals recorded by Andy de Ganahl at Starke Lake Studios, Orlando, Florida
Mixed by Eric Shilling at Starke Lake Studios, Orlando, Florida
Digital editing by Michael Atwell
Vocal solo in "Circle of Life" by John Madgett
Special thanks to: The Florida Mass Choir under the direction of Arthur Jones, Taz Morosi, and Keith Dyer

Chorus
Sarah Moore (leader)
Amy Martin-Cole
Michelle Amato
Greg Whipple
Randy Nichols
Scott Harell
Executive Producer for Disney Magic Productions: Doug Strawn
Album Producer for Disney Magic Productions: Ted Rickettes
Final mixing and mastering by Andy de Ganahl and Michael Atwell
Special thanks to: Ron Logan, Express Music Services, Wendy Leitman
Disc two
Attractions Medley

Fantasyland Castle Medley

Produced by Ken Lisi and Aarin Richard
Arranged by Richard Bellis and George Wilkins
Remixed by Samuel T. Buckner and Steve Litten at Walt Disney Imagineering Sound Department

Roger Rabbit's Cartoon Tunes

Produced by George Wilkins
Engineered and mixed by Greg Krueger at the Walt Disney Imagineering Sound Department

Indiana Jones: The Ride

Produced by Aarin Richard
Orchestra conducted by Richard Bellis
Engineered and mixed by Samuel T. Buckner and Greg Lhotka at Walt Disney Imagineering Sound Department

Seize the Future

Produced by Richard Bellis
Engineered and mixed by Greg Krueger at Walt Disney Imagineering Sound Department

Tower of Terror Theme

Produced by Aarin Richard
Orchestra conducted by Richard Bellis
Engineered and mixed by Samuel T. Buckner and Greg Lhotka at Walt Disney Imagineering Sound Department

Space Mountain

Produced by Aarin Richard and Ed Sotto
Engineered and mixed by Samuel T. Buckner and Greg Lhotka at Walt Disney Imagineering Sound Department
Musicians: Dick Dale/Carl Verhein (guitars), Ron Fish (drums), Ron Eglit (bass), Aarin Richard (synths)