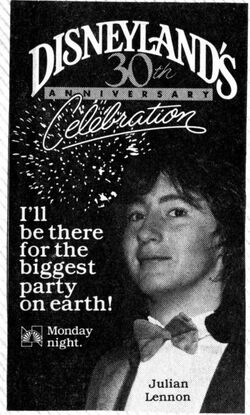 "Disneyland's 30th Anniversary Celebration" is a television special that aired on NBC on February 18, 1985. It was later broadcast on BBC One in the UK during the same year and in Venezuela, where it was called El 30o. aniversario de Disneylandia.
This special, hosted by John Forsythe and Drew Barrymore, commemorates Disneyland's 30th anniversary and was sponsored by McDonald's.
Synopsis
A star-studded celebration of Disneyland on the occasion of its thirtieth anniversary. The fast-paced special incorporates clips from the "Walt Disney anthology series" and "The Mickey Mouse Club".
Cast
Gallery
Ad blocker interference detected!
Wikia is a free-to-use site that makes money from advertising. We have a modified experience for viewers using ad blockers

Wikia is not accessible if you've made further modifications. Remove the custom ad blocker rule(s) and the page will load as expected.