Disney on Ice: Worlds of Fantasy
Comments

0
19,084pages on
this wiki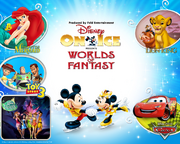 Worlds of Fantasy
is a show that takes you into six Disney Fantasies.
Synopsis
Opened on August 21, 2008, Worlds of Fantasy is a show that takes you into six Disney Fantasies. The first act of the show features, the on-ice debut of Lightning McQueen, Mater and the crew of Disney·Pixar's Cars, along with Disney mainstays The Little Mermaid 's enchanting undersea kingdom, trek the wilds of Africa with Simba, Nala, Pumbaa and Timon as they discover the true meaning of the 'Circle of Life in The Lion King and the escape of Woody, Buzz, Jessie and the rest of the toys from the Sunnyside Daycare in Toy Story 3. The second act features Merida from Brave the Disney Fairies franchise, as Tinker Bell from Pixie Hollow tries to save spring.
This show also includes a first for the Disney On Ice franchises, with a one hour pre-show centered around various Disney Princesses and giving guests the chance to see, up close and personal various Princess' gowns and mementos. This was the final Disney on Ice show to feature Wayne Allwine, Mickey Mouse's longtime voice actor, as he died in May 2009.
Featured movies
The following movies are represented in the show:
Gallery