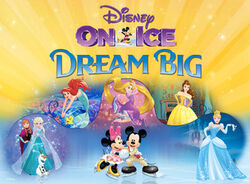 Disney on Ice: Dream Big (originally Princess Wishes and then Princesses & Heroes) is a Disney on Ice show which on September 1, 2006.
Synopsis
Princess Wishes shares abbreviated versions of the stories of popular Disney Princess characters, including Snow White, Belle, Jasmine, Cinderella, Tiana, Aurora, Rapunzel, and Ariel, and Anna and Elsa with Tinker Bell and her fairy friends serving as the presenter of the show. During the number "Under the Sea", a few lucky members of the audiences are given the chance to ride in a boat, that travels on the ice, giving them a chance to participate in the show.
Featured movies
The following movies are represented in the show:
The previous story represented in the show was:
Trivia
This is the only current Disney on Ice show to not feature Donald Duck.
Gallery