Disney on Ice: Passport to Adventure (previously known as Silver Anniversary Celebration in the UK and Mickey & Minnie's Magical Journey and originally World on Ice: 3-D) is currently the longest running Disney On Ice show on tour after originally opening in St. Petersburg, Florida on October 12, 1995.
Synopsis
it has been overhauled in 1998, 2001, 2003, 2007, 2008, and 2015. It tells the story of an adventure by Mickey, Minnie, Goofy, Donald, and Daisy that lets them see parts of Under the Sea, London, Neverland, Arendelle, and Africa.
In 2017, Judy Hopps and Nick Wilde from Zootopia have joined in the Fit to Dance pre-show.
Featured stories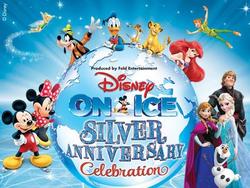 The following stories have been featured in the show:
The previous stories represented in the show were:
Gallery
Trivia
This is the only current Disney On Ice show to feature Daisy Duck.
Although Mary Poppins isn't represented in the show, the "Jolly Holiday" song is sung, but with changed lyrics.