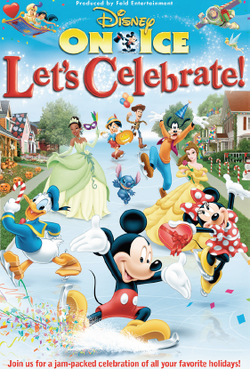 Let's Celebrate! is a compilation show billed as "One big colossal party on ice!" It' opened on September 4, 2009 as Celebrations! and then it was renamed to Let's Party! in 2012. It probably discontinued in 2016 and later evolved into Follow Your Heart.
Synopsis
The show begins with Lumiere welcoming the audience to celebrate various holidays such as a "Very Merry Unbirthday" with Alice and a royal ball with the Disney Princesses, a Halloween haunt with Jack Skellington and several of the Disney Villains, a winter wonderland with Mickey and Minnie. This show also features the Disney on Ice debut of Disney's newest princess, Tiana as well as many other festivals from around the world. This is the first project to feature Mickey Mouse's new voice actor, Bret Iwan.
Featured movies and characters
Characters from the following films are featured:
Ad blocker interference detected!
Wikia is a free-to-use site that makes money from advertising. We have a modified experience for viewers using ad blockers

Wikia is not accessible if you've made further modifications. Remove the custom ad blocker rule(s) and the page will load as expected.