Ad blocker interference detected!
Wikia is a free-to-use site that makes money from advertising. We have a modified experience for viewers using ad blockers

Wikia is not accessible if you've made further modifications. Remove the custom ad blocker rule(s) and the page will load as expected.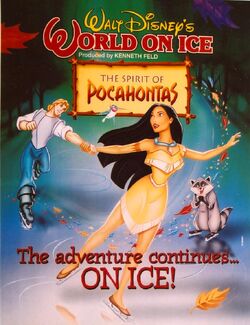 Disney on Ice: Forever Love featuring Pocahontas was a Disney on Ice show which made its debut in 1996, a year after the release of Disney's Pocahontas. It toured around the US and the world until 2000.
Synopsis
Mickey and Friends present some classic Disney animated films on Ice, but the main attraction is Disney's newest animated film, Pocahontas, making its Disney on Ice debut! All of these stories are about one big thing: a love forever, and Pocahontas' is seen as she and John Smith paint with all the colors of the wind, on the ice
Featured Movies
The following stories were represented in this show: