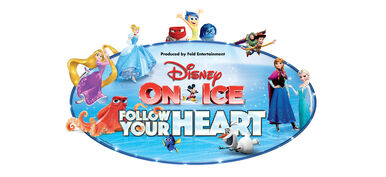 Mickey's Special Celebration (formerly Celebrations!, Lets Party!, and Let's Celebrate!, and Follow Your Heart ) is a Disney on Ice show that debuted on September 4, 2009.
Plot
Let's Celebrate! (2009 - 2016)
The show was "One big colossal party on ice". It began with Lumiere welcoming the audience to celebrate various holidays such as a "Very Merry Unbirthday" with Alice and a royal ball with the Disney Princesses, a Halloween haunt with Jack Skellington and several of the Disney Villains, and a winter wonderland with Mickey and Minnie.
This show also marked the Disney on Ice debut of Tiana as well as many other festivals from around the world. This is the first project to feature Mickey Mouse's new voice actor, Bret Iwan.
Follow Your Heart (2016 - present)
Starting on September 2, 2016, the show was revamped to Follow Your Heart where Frozen, Brave, Finding Dory and Inside Out characters were added. Throughout the show, Mickey, Minnie, Goofy, and Donald and even the emotions discover their personalities, hence their names, through various Disney film segments.
Starting with the Japan tour in 2018, Moana is part of the show and this version focuses on Mickey himself instead of Riley.
Stories represented in the show
Previous stories
All from September 2009 to May 2016.
Gallery
Trivia
Merida returns after being omitted from Magical Ice Festival.