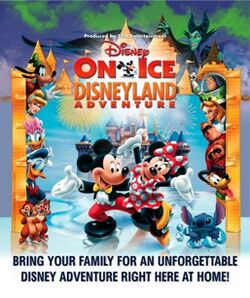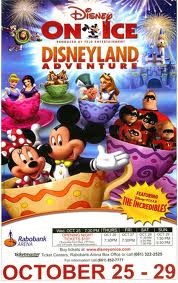 Disneyland Adventure is a Disney on Ice show. It began touring on August 25, 2005 and ended on 2011.
Synopsis
Disneyland itself is the setting for this presentation. One minute into the Main Street Parade, Maleficent breaks into the park and abducts Minnie and Donald by inducing them into a deep sleep. The remaining characters call on The Incredibles to save the day.
Main Street, U.S.A., Jungle Cruise, Big Thunder Mountain Railroad, Splash Mountain, Space Mountain, The Haunted Mansion, The Enchanted Tiki Room, Mad Tea Party, Pirates of the Caribbean and the castle were all redone to fit onto the ice.
The original storyline emphasized the Incredibles more, centered on their vacation to the park being interrupted by a robotic duplicate of Syndrome taking over the park to transform it into "Syndromeland" before the storyline shifted to making Maleficent the villain.
Featured movies
Characters from the following movies appear in this show: