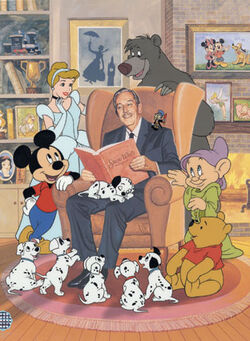 The Disney Characters are characters created and/or envisioned by Walt Disney and many other brilliant minds in the Walt Disney Company. Disney characters are the most popular and recognizable set of characters in the world, with Mickey Mouse standing as the most famous and as Disney's mascot. Some of the other most well-known Disney characters range from films such as The Little Mermaid, The Jungle Book, Cinderella, Mary Poppins, Winnie the Pooh and more.
Lists
Gallery
Ad blocker interference detected!
Wikia is a free-to-use site that makes money from advertising. We have a modified experience for viewers using ad blockers

Wikia is not accessible if you've made further modifications. Remove the custom ad blocker rule(s) and the page will load as expected.