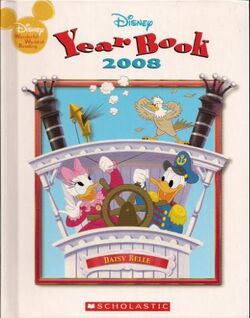 Disney Yearbook 2008
is a Disney's Wonderful World of Reading book made for the year
2008
.
Description
CONTENTS: FULL STEAM AHEAD THE MARVELOUS MEERKAT LIGHTING TO THE RESCUE COOL CAR CREATIONS CIRCUS SMIRKUS DISNEY DELIVERY HOME SWEET HOME SECRET WEAPONS CRYSTAL CLEAR TINK AND THE EVER SPRING FESTIVAL WETLAND WONDERLANDS WHAT AM I? HAPPY BIRTHDAY PRINCESS DAISY A CROWN FOR A PRINCESS PRESIDENTIAL ROCK STARS THE LAST LAUGH!
Details
Hardcover
Publisher: Scholastic (2008)
ISBN-10: 0545028116
ISBN-13: 978-0545028110
Ad blocker interference detected!
Wikia is a free-to-use site that makes money from advertising. We have a modified experience for viewers using ad blockers

Wikia is not accessible if you've made further modifications. Remove the custom ad blocker rule(s) and the page will load as expected.