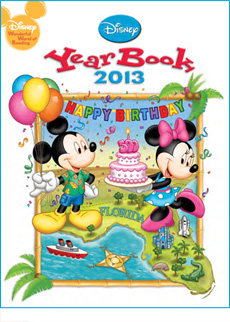 Disney Year Book 2013 is a Disney's Wonderful World of Reading book made for the year 2013.
Description
Every day can become a fantastic learning adventure with the 2013 Disney Year Book Pack. Destined to become a treasured favorite, this engaging hard-cover book is filled with fun activities, fascinating facts, charming stories, and brilliant artwork. Inspired by some of the best-loved Disney films and characters from Mickey Mouse to Mike and Sulley, it's sure to sharpen your children's reading skills while developing their natural curiosity about the world around them. The 2013 Disney Year Book delivers a one-of-a-kind combination of facts and fun, whether you're exploring caves deep below the Earth's surface or checking out works of art made out of recycled garbage. Featuring articles that take you into outer space with Buzz Lightyear and invite you to celebrate the 500th birthday of the state of Florida with The Little Mermaid's Sebastian and Flounder, every page offers parents and children a unique opportunity to discover and learn together. Pieces on how animals communicate and Lincoln's "Gettysburg Address" give families a chance to discuss nature and history, while a special story starring Pooh and his friends teaches about recycling everyday items.
Ad blocker interference detected!
Wikia is a free-to-use site that makes money from advertising. We have a modified experience for viewers using ad blockers

Wikia is not accessible if you've made further modifications. Remove the custom ad blocker rule(s) and the page will load as expected.