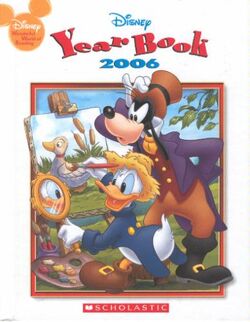 Disney Year Book 2006 is a Disney's Wonderful World of Reading book made for the year 2006.
Description
CONTENTS: WE'RE FORTHE BIRDS ! BENJAMIN FRANKLYN: THE MAN WHO COULD DOI ANYTHING ROO'S WORK OF ART RABITT'S RAINBOW STREAMER HIDE AND SEEK CASTLES IN THE SAND FOX AND HOUND'S HONOR THE MYSTERIOUS RAIN FOREST ALI BABBLE AND THE FORTY SNEEZES BURIED TRASURE MAGIS WITH MIRRORS COPYCATS ! IT'S GOOD TO BE THE CAPTAIN STEVE FOSSETT: WORLD RECORD SETTER UNDERWATER SURPRISES THE LAST LAUGH.
Details
Hardcover: 96 pages
Publisher: Scholastic, Inc.; 1st edition (2006)
Language: English
ISBN-10: 0717278832
ISBN-13: 978-0717278831
Ad blocker interference detected!
Wikia is a free-to-use site that makes money from advertising. We have a modified experience for viewers using ad blockers

Wikia is not accessible if you've made further modifications. Remove the custom ad blocker rule(s) and the page will load as expected.