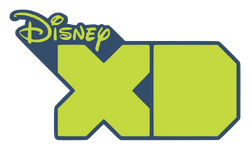 Disney XD Latin America is a cable television channel and is an edition of the The Walt Disney Company-owned Disney XD broadcasting to Latin America and the Caribbean. It was launched on November 8, 1996 as The Fox Kids Network. The network took on its current name on July 3, 2009. It is broadcast in five feeds, North Zone, Central Zone, Pacific Zone, South Zone and Brazil Zone . It features male-focused series along with action, comedy and animated series. It is marketed to boys, girl inclusive, from 6 to 14. It is operated in the region by Disney & ESPN Media Networks and The Walt Disney Company Latin America Inc., which are owned by The Walt Disney Company.
Feeds
Disney XD Latin America is divided into five different feeds for its transmission in the region:
Disney XD North: Aired in Mexico.
Disney XD Central: Aired in Colombia, Dominican Republic, Venezuela, and Central America.
Disney XD South: Aired in Argentina, Paraguay and Uruguay.
Disney XD Brazil: Aired in Brazil (in Brazilian Portuguese).
Launch dates
November 8, 1996: launched as Fox Kids
July 31, 2004: launched Jetix North, Jetix Multi-country and Jetix South.
August 1, 2004: launched Jetix Brazil.
July 3, 2009: launched as Disney XD.
January 18, 2010: launched Feed Pacific
Programming
Series produced by Disney Television Animation, Disney XD Original Series, Disney Channel Original Series and third-party television series take most of the schedule. Movies are also aired.
These are the shows broadcast on Disney XD Latin America.
Disney original live-action series

I'm In the Band
Aaron Stone (cancelled)
Peter Punk
The Suite Life of Zack & Cody (out of the air)
Copa Disney

Disney original animated series

Phineas and Ferb (also aired on Disney Channel until Ut hodie una)
Kid vs. Kat
Club Penguin Animated Shorts
Non-original series

Dinosaur King
Beyblade Metal Fusion
Beyblade: Metal Masters
Pucca
The Fairly OddParents (season 1-5)
Digimon Frontier
Digimon Data Squad
The Super Hero Squad Show
Gormiti
Like Brothers (Le Monde de Pahe)
Almost Naked Animals
My Babysitter's a Vampire
Bondi Band

Movies
Disney Channel and Disney XD Original Movies
Minutemen
Eddie's Million Dollar Cook-Off
The Luck of the Irish
Going to the Mat
Den Brother
Hatching Pete
Former Disney XD programming
Digimon Frontier
Escape from Scorpion Island
The crystal Gawayne
Iron Man: Armored Adventures
My Giant Friend
Power Rangers: Jungle Fury
Quantum Ray
Wolverine and the X-Men
Spliced
Power Rangers: RPM
League of Super Evil
Former Jetix programming
Chaotic
Combo Niños
Dinosaur King
The Fairly OddParents (also aired on sister Disney Channel, but with newer episodes on Nickelodeon)
Farmkids
Goosebumps
Grossology
Power Rangers: Mystic Force
Power Rangers: Operation Overdrive
Power Rangers: Jungle Fury
Power Rangers: SPD
Skunk Fu!
Space Goofs
Supernormal
Teenage Mutant Ninja Turtles: Back to the Sewer
Transformers: Armada
Transformers: Cybertron
Wolverine and the X-Men
Yin Yang Yo!
A.T.O.M. (only in South, North Latin America and Brazil)
B-Daman (only in South, North and Central Latin America)
Iron Kid (only in Central Latin America)
Power Rangers Dino Thunder (only in South, North and Central Latin America)
Power Rangers Ninja Storm (only in Central Latin America and North Latin America)
Power Rangers Wild Force (only in South, Central Latin America and North Latin America)
Power Rangers Zeo (only in South Latin America)
Teenage Mutant Ninja Turtles (only in Central Latin America and North Latin America)
The Secret Show (only in Central Latin America and Brazil)
Wicked Science (only in Central Latin America)
Totally Spies! (aired until 3rd season in all feeds but the Brazilian, where it aired until the 4th)
Beyblade
Class of the Titans
Casi Ángeles
Code Lyoko
Dragon Booster
Donkey Kong Country
Get Ed
Kirby: Right Back at Ya!
Monster Allergy
Monster Warriors
Ōban Star-Racers
Power Rangers: Time Force
Power Rangers: Turbo
Shuriken School
Sonic X
Super Robot Monkey Team Hyperforce Go!
Team Galaxy
The Spooky Sisters
W.I.T.C.H.
Woody Woodpecker/Andy Panda/Chilly Willy
External links
| | |
| --- | --- |
| | This page uses content from the English Wikipedia. The article or pieces of the original article was at Disney XD (Latin America). The list of authors can be seen in the page history. As with Disney Wiki, the text of Wikipedia is available under the GNU Free Documentation License. |