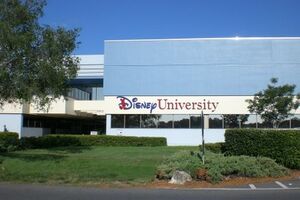 Disney University (DU) is the global entity under which Disney Cast Members receive a range of opportunities including Disney heritage and traditions, personal and professional development, and on the job training. Although Disney University is not an accredited institution, courses are primarily designed, developed and delivered by experienced learning professionals. However, in order to enroll, you need to be enrolled in an accredited college that will allow you to take classes and work at Disney. Most colleges allowing it has internships available and give college creditto do the internship while taking Disney classes. Disney University has traditionally provided learning instructor-led classroom sessions, but has expanded delivery methods to accommodate Disney's diverse and growing audience (including) Walt Disney World, Disneyland Resort, Disney Cruise Line, Walt Disney Imagineering, Disneyland Paris, Hong Kong Disneyland, Disney Vacation Club, including Disney's Vero Beach Resort, Disney's Hilton Head Island Resort, and new AulaniResort & Spa) in recent years through the latest technologies and learning methods (e.g. eLearning, virtual classrooms etc.).
The Disney University is also the name of the training location where Disney Cast Members attend classroom sessions. The building is located at Walt Disney World, near Orlando, Florida, Disneyland's Team Disney Anaheim near Disneyland Parisand Burbank's Team Disney Headquarters. The Walt Disney World building is located behind the Magic Kingdom, across from the Cast Member parking lot. It is also where newly hired Cast Members, Walt Disney College Program students interns Walt Disney College Program participants attend employee orientation known as "Disney Traditions".
All new Cast Members attend 'Traditions' on their first day of work ; this class imparts the importance of Disney culture, heritage, values and policies through media, group activities and guided Theme Park tours.
The two-story building at Walt Disney World houses several learning and conference spaces, computer classrooms, professional offices, building operation support (Production Services), the Disney University Library (formerly Disney Learning Center), Partners Federal Credit Union branch and ATM, an Aramark cafeteria and a Company D employee store. This is also the location of Disney's Access Control office, where all Cast Members are issued company ID cards.
You can find Disney University at 5555 North Center Drive, Lake Buena Vista, FL 32830.