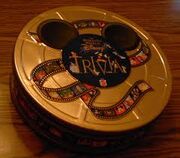 Disney Trivia
 (also known as The Wonderful World of Disney Trivia Game) is a trivia board game that was released in 1997. The box is the shape of a thin, wide cylinder. The gameboard is the shape of 
Mickey Mouse
's
 head. The game includes 4 mickey mouse movers, 1 die, 20 Mickey Mouse Tokens, 500 cards (400 adult trivia cards and 100 kid trivia cards) with questions and answers on them, and the game's instructions.
Ad blocker interference detected!
Wikia is a free-to-use site that makes money from advertising. We have a modified experience for viewers using ad blockers

Wikia is not accessible if you've made further modifications. Remove the custom ad blocker rule(s) and the page will load as expected.