Ad blocker interference detected!
Wikia is a free-to-use site that makes money from advertising. We have a modified experience for viewers using ad blockers

Wikia is not accessible if you've made further modifications. Remove the custom ad blocker rule(s) and the page will load as expected.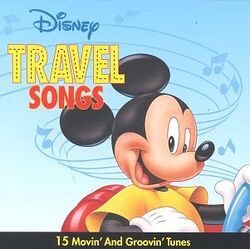 Disney Travel Songs is a 1994 Walt Disney Records album featuring songs about traveling by car, as well as other forms of transportation.
Details
Audio CD (February 22, 1994)
Original Release Date: 1999
Number of Discs: 1
Label: Walt Disney Records
ASIN: B000001M1J
Track listing
Come On, Let's Go
Merrily We Roll Along/Groovin'
Ease On Down The Road
Up, Up, And Away
Down By The Station/Chattanoga Choo-Choo
The Little Old Lady From Pasadena
The Trolley Song
Brand New Key
Oh, Susanna/Polly-Wolly-Doodle
Arkansas Traveler/Chickens On Vacation
She'll Be Comin' Round The Mountain
Take me Home, Country Roads
Over The River And Through The Woods/Rig-A-Jig-Jig/The Bear Went Over The Mountain
The Happy Wanderer
Driving Into The Clouds