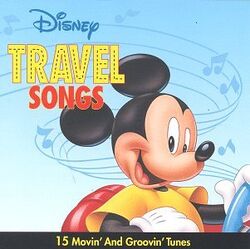 Disney Travel Songs is a 1994 Walt Disney Records album featuring songs about traveling by car, as well as other forms of transportation.
Details
Audio CD (February 22, 1994)
Original Release Date: 1999
Number of Discs: 1
Label: Walt Disney Records
ASIN: B000001M1J
Track listing
Come On, Let's Go
Merrily We Roll Along/Groovin'
Ease On Down The Road
Up, Up, And Away
Down By The Station/Chattanoga Choo-Choo
The Little Old Lady From Pasadena
The Trolley Song
Brand New Key
Oh, Susanna/Polly-Wolly-Doodle
Arkansas Traveler/Chickens On Vacation
She'll Be Comin' Round The Mountain
Take me Home, Country Roads
Over The River And Through The Woods/Rig-A-Jig-Jig/The Bear Went Over The Mountain
The Happy Wanderer
Driving Into The Clouds
Ad blocker interference detected!
Wikia is a free-to-use site that makes money from advertising. We have a modified experience for viewers using ad blockers

Wikia is not accessible if you've made further modifications. Remove the custom ad blocker rule(s) and the page will load as expected.