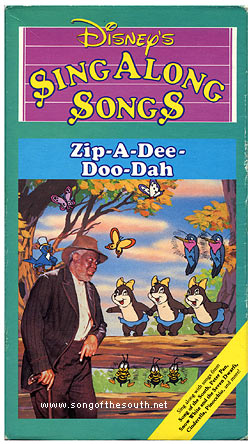 Disney Sing Along Songs: Zip-a-Dee-Doo-Dah is the very first Disney Sing Along Songs video. It was released on October 14, 1986.
Songs
The Mickey Mouse Club March (Mickey Mouse Club TV Series)
The Ballad of Davy Crockett (Davy Crockett TV Series)
Zip-a-Dee-Doo-Dah Reprise
Trivia
Hosted by Professor Owl
The video was originally issued to promote the November 21, 1986 theatrical re-release of Song of the South, celebrating the film's 40th Anniversary, and representing the launch of the new home-video series of (as yet, unnumbered) Sing Along Songs.
Mickey Mouse Club March came first before Zip-a-Dee-Doo-Dah.
Footage for the song It's a Small World was taken from Disneyland Goes to the World's Fair, which aired May 17, 1964.
"Casey Junior", while containing the original footage from Dumbo, also contained footage from the short The Brave Engineer.
Ending footage for Zip-a-Dee-Doo-Dah Reprise was taken from This is Your Life, Donald Duck where the Disney gang comes to pay tribute to Mickey, Donald and Goofy.
It was also known as Cancion del Sur: Zip-a-Dee-Doo-Dah in Spanish when it was released in Spain.
Both the 1994 and 2001 VHS re-release copies are considered the rarest since only a few copies were manufactured into stores.
Gallery
v - e - d
Other
Disney Sing Along Songs: Zip-a-Dee-Doo-Dah