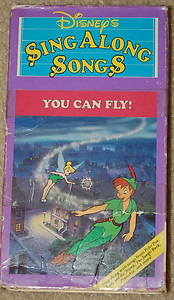 Disney Sing Along Songs: You Can Fly! is a Disney Sing Along Songs video released on February 2, 1988. Notably the first video in the series to feature Professor Ludwig Von Drake as the host, all of the featured songs are either about flying or taking place in various nations.
Songs
Little Black Rain Cloud (Winnie the Pooh and the Honey Tree or The Many Adventures of Winnie the Pooh)
You Can Fly Reprise
Trivia
Released in 1988 to mark the 35th Anniversary of Peter Pan.
When Ludwig introduces the first song, You Can Fly, a scene from From All of Us to All of You for the intro has been revealed.
Known as Peter Pan: Voloras, Voloras in Spanish, released in Spain and the United States. When the Spanish version was released around 1993, He's a Tramp was still on the Spanish version even though it got cut in the English version.
Gallery
Ad blocker interference detected!
Wikia is a free-to-use site that makes money from advertising. We have a modified experience for viewers using ad blockers

Wikia is not accessible if you've made further modifications. Remove the custom ad blocker rule(s) and the page will load as expected.