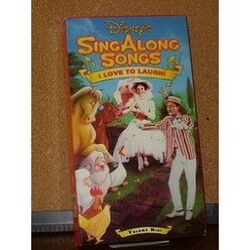 Disney Sing Along Songs: I Love to Laugh! is a Disney Sing Along Songs video released on December 28, 1990.
Songs
Trivia
Retitled Supercalifragilisticexpialidocious in 1994, featuring new graphics at the start and new end credits
Known as Mary Poppins: Supercalifagilistico in Spanish, released in Spain.
The "Everybody Has a Laughing Place" sing-along has a montage of various Disney characters laughing.
The 1994 print featured the gold WDHV logo (with blue background), replacing the 1986 Sorcerer Mickey WDHV logo, which was a video editing error, but was bothered not to be corrected.
Hosted by Ludwig Von Drake
Gallery
Ad blocker interference detected!
Wikia is a free-to-use site that makes money from advertising. We have a modified experience for viewers using ad blockers

Wikia is not accessible if you've made further modifications. Remove the custom ad blocker rule(s) and the page will load as expected.