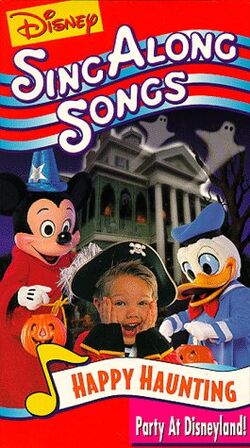 Disney Sing Along Songs: Happy Haunting at Disneyland
is a Disney Sing Along Songs Video released on
August 26
,
1998
, on VHS and
September 5
,
2006
, on DVD.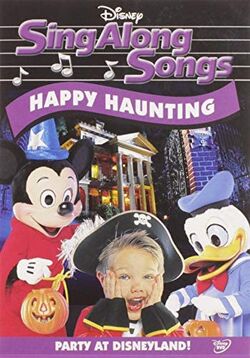 Summary
A Halloween party is being hosted at the Haunted Mansion, and everyone is invited! Between songs, a subplot features three children—Zach, Sally, and Sam—going on a pumpkin hunt, help decorate, read from The Legend of Sleepy Hollow, and look for costumes to wear. After trick-or-treating, the guests gather for The Monster Mash.
Songs
It's Halloween
Five Little Pumpkins
Chicken Lips and Lizard Hips
Five Little Witches
Spooky Scary Skeletons
Casting My Spell
Trick or Treat
The Monster Mash
Trivia
This is the only live-action video to feature different costumes of Donald, Daisy, Huey, Dewey, and Louie. It is also the only live-action video where Donald doesn't speak.
Hosted by the Magic Mirror from Snow White and the Seven Dwarfs.