Disney Sing Along Songs: Collection of All-Time Favorites: The Modern Classics
Comments

0
Share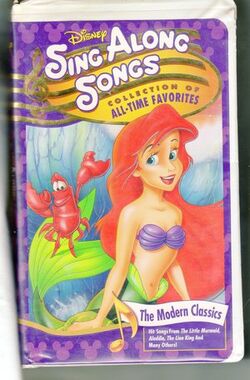 Disney Sing Along Songs: Collection of All-Time Favorites: The Modern Classics is a Disney Sing Along Songs video released on July 22, 1997.
Songs
Trivia
Hosted by Professor Owl (voiceover only, before all songs)
This volume with the other Collection of All-Time Favorites videos in the UK were released in a set instead of separately.
*Songs in foreign versions (outside of USA, UK, Australia, etc.) replace One Last Hope and Zero to Hero.
Gallery
Ad blocker interference detected!
Wikia is a free-to-use site that makes money from advertising. We have a modified experience for viewers using ad blockers

Wikia is not accessible if you've made further modifications. Remove the custom ad blocker rule(s) and the page will load as expected.