The Disney Renaissance refers to an era beginning roughly in 1989 and ending in 1999 during which Walt Disney Animation Studios returned to making more musical animated films that were mostly based on well-known stories, and it allowed Disney's animated films to become powerhouse successes at the domestic and foreign box office; making much more profit than most of the other Disney films of the past eras.
The animated films released during this period include The Little Mermaid (1989), The Rescuers Down Under (1990), Beauty and the Beast (1991), Aladdin (1992), The Lion King (1994), Pocahontas (1995), The Hunchback of Notre Dame (1996), Hercules (1997), Mulan (1998) and Tarzan (1999).
History
After the deaths of Walt and Roy O. Disney, Disney was left in the hands of Donn Tatum, Card Walker and Ron Miller. The films released over an eighteen-year period following this change of management mean the films being made weren't considered as memorable as the products that Walt Disney directed while he was still alive, with the exception of a few films. However, it should be noted that most of the films still did well at the box office, got good reviews from movie critics at the time and were able to be nominated for a few awards. An especially hard blow was dealt during production of The Fox and the Hound when long-time animator Don Bluth left Disney, taking 11 Disney animators with him, to start his own rival studio, Don Bluth Productions. With 17% of the animators now gone, production on The Fox and the Hound was delayed. Don Bluth Productions produced The Secret of NIMH in 1982, and the company eventually became Disney's main competitor in the animation industry during the 1980s and early 1990s. Disney made major organizational changes in the 1980s after narrowly escaping a hostile takeover attempt from Saul Steinberg. Michael Eisner, formerly of Paramount Pictures, became CEO in 1984, and he was joined by his Paramount associate Jeffrey Katzenberg, while Frank Wells, formerly of Warner Bros., became President. After the disappointing box office performance of the 1985 PG-rated feature The Black Cauldron, the future of the animation department was in jeopardy. The Black Cauldron is what gave Walt Disney Animation Studios the final push to create the great films that would be just as great as when Walt ran the Studio. Going against a thirty-year studio policy, the company founded a TV animation division which was much cheaper than theatrical animation. In the interest of saving what he believed to be the studio's core business, Roy E. Disney persuaded Eisner to let him supervise the animation department in the hopes of improving its fortunes.
In 1986, Disney would soon begin its road to recovery. They released The Great Mouse Detective[1][2] and Universal released Don Bluth's An American Tail. An American Tail outperformed The Great Mouse Detective at the domestic box office, and became the higher-grossing film on its first release. Despite An American Tail's greater level of success financially, The Great Mouse Detective was still successful enough, both critically and commercially, to instill executive confidence in Disney's animation department. However, it should be noted that The Great Mouse Detective had received more favorable reviews than An American Tail from various movie critics, most notably from Gene Siskel and Roger Ebert, at the time of their respective releases.
Two years later, Disney released Oliver & Company on the same weekend that Universal released Don Bluth's The Land Before Time. The latter's opening weekend gross of over $7,526,000 broke most of the records, becoming the top grossing opening weekend for an animated feature. The film out-grossed An American Tail and became the highest-grossing animated film at that time. However, this wasn't a complete loss for Disney. Oliver & Company beat out The Land Before Time at the domestic box office by about $5,000,000 and was nominated for much more awards; most notably a Golden Globe award, despite the fact the Disney film wasn't as well-received as the Don Bluth film.
Earlier in 1988, Disney collaborated with Steven Spielberg, a long-time animation fan and producer of An American Tail and The Land Before Time, to produce Who Framed Roger Rabbit, a live action/animation hybrid which featured animated characters from the 1930s and 1940s from many different studios together. The film was a critical and commercial success, winning three Academy Awards for technical achievements and renewing interest in theatrical animated cartoons. Other than the film itself, Spielberg also helped Disney produce three Roger Rabbit shorts.
The Renaissance era
Disney had been developing its own adaptation of The Little Mermaid since the 1930s, and by 1989, after the critical and financial success of The Great Mouse Detective, Roger Rabbit and Oliver & Company (the only one of the three films to get mixed reviews), the studio had decided to make it into an animated Broadway-like musical. Lyricist Howard Ashman and composer Alan Menken, who worked on Broadway years earlier on productions such as Little Shop of Horrors, became involved in the production, writing and composing the songs and score for the film. The film was released on November 14, 1989 and garnered a higher weekend gross than Don Bluth's All Dogs Go to Heaven, which opened the same weekend. It went on to break The Land Before Time's record of highest-grossing animated film at the time of its respective release. The Little Mermaid was a critical and commercial success. It won two Academy Awards, for Best Original Song and for Best Original Score ("Under the Sea"), earning an additional nomination for Best Original Song for "Kiss the Girl".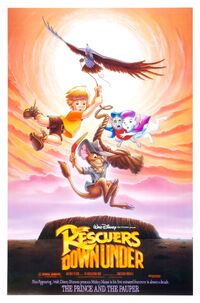 The Rescuers Down Under was released one year later and was the first canon sequel to the popular 1977 film The Rescuers, which was also produced by Walt Disney Animation Studios. The Rescuers Down Under garnered much positive criticism and earned a modest box-office success, but was less successful than The Little Mermaid at both the domestic and foreign box office.
Beauty and the Beast, often considered to be one of the greatest of all Disney animated features, followed in 1991. It was the first animated film nominated for an Academy Award for Best Picture, losing to The Silence of the Lambs. Beauty and the Beast did win the Golden Globe Award for Best Motion Picture (Musical or Comedy) and two Academy Awards, for Best Original Score and Best Original Song. Beauty and the Beast also received an Academy Award nomination for Best Sound, as well as two additional nominations for Best Original Song.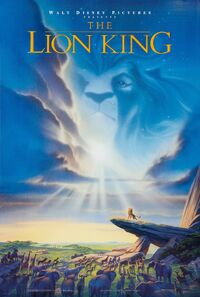 Aladdin and The Lion King followed in 1992 and 1994, respectively, with both films having the highest worldwide grosses of their respective release years. Aladdin was the highest-grossing animated film up until that time, but was later surpassed by The Lion King, which became the highest-grossing animated film ever at the time and remains the highest-grossing traditionally animated film in history (third overall after additional gross from a 2012 3D re-release, behind Toy Story 3 and Frozen). Both films won Academy Awards for Best Original Song and Best Original Score. Aladdin also earned an additional Academy Award nomination for Best Original Song and nominations for Best Sound and Best Sound Effects Editing, for a total of five nominations. The Lion King earned two additional Academy Award nominations for Best Original Song, giving it a total of four Academy Award nominations. Howard Ashman wrote several songs for Aladdin before his death, but only three were ultimately used in the film. Tim Rice joined the project and completed the score and songs with Alan Menken. Tim Rice went on to collaborate with Elton John and Hans Zimmer in The Lion King. Between these in-house productions, Disney diversified in animation methods and co-produced The Nightmare Before Christmas (1993) with former Disney animator Tim Burton.
"Second Half" of the Disney Renaissance
The proceeding films, while none of them flopped, were not as successful as the previous films, minus a few exceptions. Many of the following films are even jeered by some people. Some people have also criticized Disney for overusing their restrictive formula in stories that were "not necessary or tainted by it".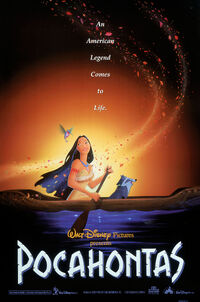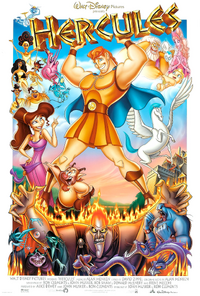 The next Disney animated film, Pocahontas (1995), opened with mixed to negative reviews, though it still earned $346 million worldwide and garnered Academy Awards for Best Score and Best Original Song for "Colors of the Wind".
The following year, The Hunchback of Notre Dame (1996), Disney's first animated film produced at a budget of over $100 million, opened to better reviews than Pocahontas, but a lower total box office of $325 million. Both films feature songs by lyricist Stephen Schwartz.
When Hercules (1997) earned $252 million ($73 million less than Hunchback) at the box office, news media began to openly suggest that Disney was on a downward trend with their animated film releases. Although it gained more positive criticism than Pocahontas, it was still vulnerable to competition from companies such as DreamWorks and Pixar. All three films feature music composed by Alan Menken.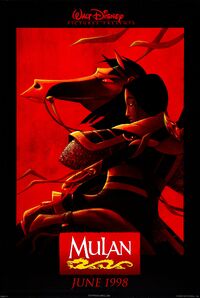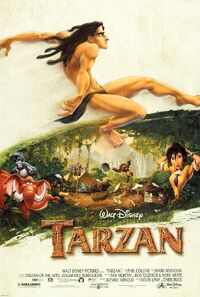 Mulan (1998), animated and produced entirely by Walt Disney Animation Studios Florida with a score by Jerry Goldsmith and songs by Matthew Wilder and David Zippel, earned $304 million at the worldwide box office, restoring the commercial and critical standing of Disney's output.
Tarzan (1999), with songs by Phil Collins, won an Academy Award for Best Original Song with "You'll Be in My Heart" and became Disney's most commercially-successful film since The Lion King, earning $448 million at the box office and positive reviews. Tarzan was also Disney's most expensive animated feature to that date at $130 million, much of which went to developing new processes such as the computer-assisted background painting technique known as "Deep Canvas".
The success of the Disney Renaissance attracted the attention of other animation studios, many of whom tried to replicate Disney's success by turning their movies into Disney-styled musicals or various traditional animated films. However, most attempts met with mixed to negative reviews from critics. Some of the most infamous examples include Quest for Camelot and Freddie as F.R.O.7. However, a few films did come close in terms of matching the critical and financial success. Examples include Don Bluth's Anastasia, Ferngully: The Last Rainforest, The Prince of Egypt and South Park: Bigger, Longer & Uncut.
It also should be noted that while some animated movies flopped at the box office, mostly due to fierce competition from Disney or from other movies, they both received critical praise and/or a cult following and also performed much better in terms of home video sales; which in turn saved them from fading into obscurity. Some of the most famous examples include Balto from Amblimation, and Cats Don't Dance, Batman: Mask of the Phantasm and arguably the most famous of them all The Iron Giant from Warner Bros. Animation.
In 1995, Disney partnered with Pixar to create Toy Story, the first fully computer-animated feature. In the 2000s, many of Pixar's films, such as Finding Nemo, WALL-E and Up, garnered the same box office results and critical acclaim that the '90s Disney Renaissance films had.
Critical reaction
Most of the films Disney released in this era were well-received, as in the film critic site Rotten Tomatoes, the first four (The Little Mermaid, Beauty and the Beast, Aladdin and The Lion King) have the best critical reception (with over 90% positive reviews) and Pocahontas has the lowest reception (with 56% of positive reviews).
| Film | Rotten Tomatoes |
| --- | --- |
| The Little Mermaid | 93% (52 reviews) |
| The Rescuers Down Under | 68% (25 reviews) |
| Beauty and the Beast | 93% (93 reviews) |
| Aladdin | 94% (52 reviews) |
| The Lion King | 92% (97 reviews) |
| Pocahontas | 56% (49 reviews) |
| The Hunchback of Notre Dame | 73% (51 reviews) |
| Hercules | 84% (49 reviews) |
| Mulan | 86% (73 reviews) |
| Tarzan | 88% (102 reviews) |
Box office
Film
Release date
Box office revenue
Budget
Reference
Premiere
General
Domestic
Foreign
All time worldwide
The Little Mermaid
November 17, 1989
$111,543,479
$99,800,000
$211,343,479
$40,000,000
The Rescuers Down Under
November 16, 1990
$27,931,461
$19,500,000
$47,431,461
$37,931,000
Beauty and the Beast
November 15, 1991
November 22, 1991
$218,967,620
$222,553,617
$441,521,237
$25,000,000
Aladdin
November 13, 1992
November 25, 1992
$217,350,219
$286,700,000
$504,050,219
$25,000,000
The Lion King
June 15, 1994
June 24, 1994
$422,783,777
$564,700,000
$987,483,777
$45,000,000
Pocahontas
June 16, 1995
June 23, 1995
$141,579,773
$204,500,000
$346,079,773
$55,000,000
The Hunchback of Notre Dame
June 19, 1996
June 21, 1996
$100,138,851
$225,200,000
$325,338,851
$100,000,000
Hercules
June 15, 1997
June 27, 1997
$99,112,101
$153,600,000
$252,712,101
$85,000,000
Mulan
June 19, 1998
$120,620,254
$183,700,000
$304,320,254
$70,000,000

#27(A)
Tarzan
June 18, 1999
$171,091,819
$277,100,000
$448,191,819
$150,000,000
Total
$1,631,119,354
$2,192,353,617
$3,823,472,974
$612,431,000
List indicator(s)

A light grey cell indicates information is not available.
(A) indicates the budget of the film was estimated by IMDb.
Academy Awards
Nine of the ten films in the Disney Renaissance were nominated for Academy Awards, six of which won at least one Oscar:
Soundtracks
See also
External links
References
v - e - d
Episodes
Timon & Pumbaa
Season One: "Boara Boara" • "Saskatchewan Catch" • "Kenya Be My Friend?" • "Good Mousekeeping" • "Brazil Nuts" • "South Sea Sick/The Lion Sleeps Tonight" • "Never Everglades" • "Cooked Goose" • "Yukon Con" • "Doubt of Africa" • "How to Beat the High Costa Rica" • "Swiss Missed" • "Russia Hour" • "You Ghana Join the Club" • "Uganda Be an Elephant" • "To Kilimanjaro Bird" • "Rocky Mountain Lie" • "Amazon Quiver" • "French Fried" • "Big Top Breakfast" • "Madagascar About You" • "Truth or Zaire/Yummy, Yummy, Yummy" • "Mojave Desserted" • "Beauty and the Wildebeest" • "Don't Break the China" • "Can't Take a Yolk" • "Stand by Me" • "The Pain in Spain" • "Frantic Atlantic" • "Unlucky in Lesotho" • "Rafiki's Apprentice" • "Tanzania Zany" • "Guatemala Malarkey" • "Mombasa-In-Law" • "TV Dinner" • "Back Out in the Outback" • "Gabon with the Wind" • "Timon's Time Togo" • "The Law of the Jungle" • "Manhattan Mishap" • "Paraguay Parable" • "Be More Pacific" • "Going Uruguay" • "Let's Serengeti Out of Here" • "Congo on Like This" • "Okay Bayou?" • "Shake Your Djibouti" • "Yosemite Remedy" • "The Sky is Calling" • "Mozam-Beaked" • "Ocean Commotion"
Season Two: "Palm Beached" • "Jamaica Mistake?" • "Oregon Astray" • "New Guinea Pig" • "Isle of Manhood" • "Puttin' on the Brits" • "Klondike Con" • "Isle Find Out" • "Beetle Romania" • "Rumble in the Jungle" • "Wide Awake in Wonderland" • "Zazu's Off-by-One Day" • "Animal Barn" • "Roach Hotel" • "Africa-Dabra!" • "I Don't Bolivia" • "Shopping Mauled" • "Library Brouhaha" • "Catch Me if You Kenya" • "Scent of the South" • "Monster Massachusetts" • "Handle with Caribbean" • "Forbidden Pumbaa" • "Washington Applesauce" • "Alcatraz Mataz" • "Oahu Wahoo" • "I Think I Canada" • "Zazu's Off Day Off" • "Beast of Eden" • "Sense & Senegambia" • "Timon on the Range" • "The Man from J.U.N.G.L.E." • "Maine-Iacs" • "Fiji-Fi-Fo-Fum" • "Rome Alone" • "Amusement Bark" • "Once Upon a Timon" • "Home is Where the Hog Is" • "Beethoven's Whiff" • "Bumble in the Jungle" • "Mind Over Matterhorn"
Season Three: "Whiff" • "To Be Bee or Not to Be Bee" • "Luck Be a Meerkat" • "Just When You Thought You'd Cuisine it All" • "Lemonade Stand Off" • "Big Jungle Game" • "Boo Hoo Bouquet" • "So Sumo Me" • "Now Museum, Now You Don't" • "Visiting Pig-nitaries" • "The Truth About Kats and Hogs" • "Escape from Newark" • "Truth Be Told" • "Circus Jerks" • "Nest Best Thing" • "Super Hog-O" • "Don't Have the Vegas Idea" • "Hot Enough for Ya?" • "Werehog of London" • "Bigfoot, Littlebrain" • "Astro-Nots" • "Robin Hoodwinked" • "Seregenti Western" • "All Pets are Off" • "Two for the Zoo" • "The Swine in the Stone" • "You May Have Already Won Six Million Bakra" • "My Meteor, My Friend" • "Jungle Slickers" • "Don't Wake the Neighbear" • "Recipe for Disaster" • "Going Over-Boar'd" • "Ivy Beleaguered" • "Broadway Bound & Gagged" • "Steel Hog" • "Dealer's Choice Cut" • "Space Ham" • "You Bet Your Tukhus" • "No-Good Samaritan" • "Living in De Nile" • "One Tough Bug" • "Pirates of Pumbzance" • "Miss Perfect" • "Hakuna Matata U." • "Pig-Malion" • "Why No Rhino" • "War Hogs" • "The Big No Sleep" • "Common Scents" • "Mister Twister" • "Don't Be Elfish" • "Lights, Camera, Traction" • "The Running of the Bullies" • "Special Defects" • "Wishy Washy" • "Ice Escapades" • "Guru-Some" • "Jailhouse Shock" • "Nearly Departed" • "Early Bird Watchers" • "The Spy's the Limit" • "Ready, Aim, Fire" • "Timoncchio" • "Ghost Boosters" • "Stay Away from my Honey!" • "Sitting Pretty Awful" • "He's a Bad, Bad, Bad Sport" • "Dapper Duck Burgers" • "It Runs Good" • "Hot Air Buffoons" • "Timon in Love" • "Kahuna Potato" • "Mook Island" • "Cliphangers"
The Lion Guard
Season One: "Never Judge a Hyena by its Spots" • "The Rise of Makuu" • ""Bunga the Wise" • "Can't Wait to be Queen" • "Eye of the Beholder" • "The Kupatana Celebration" • "Fuli's New Family" • "The Search for Utamu" • "Follow That Hippo!" • "Call of the Drongo" • "Paintings and Predictions" • "The Mbali Fields Migration" • "Bunga and the King" • "The Imaginary Okapi" • "Too Many Termites" • "The Trouble With Galagos" • "Janja's New Crew" • "Baboons!" • "Beware the Zimwi" • "Lions of the Outlands" • "Never Roar Again" • "The Lost Gorillas" • "The Trail to Udugu" • "Ono's Idol" • "Beshte and the Hippo Lanes" • "Ono the Tickbird"
Season Two: "Babysitter Bunga" • "The Savannah Summit" • "The Traveling Baboon Show" • "Ono and the Egg" • "The Rise of Scar" • "Let Sleeping Crocs Lie" • "Swept Away" • "Rafiki's New Neighbors" • "Rescue in the Outlands" • "The Ukumbusho Tradition" • "The Bite of Kenge" • "Timon and Pumbaa's Christmas" • "The Morning Report" • "The Golden Zebra" • "The Little Guy" • "Divide and Conquer"