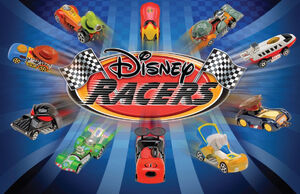 Disney Racers (also known as Disney Wild Racers) is a line of die-cast cars sold at Disneyland and Walt Disney World theme parks. The cars are modeled in the forms of Disney characters and theme park attractions.
History
The line originally started as Disney Wild Racers in 2002 under Disney Consumer Products and were sold in two-packs. Only 3 waves were made and the series was discontinued. However due to strong sales at the Disney Parks, merchandising obtained the original molds and started making their own cars in 2005. With the Parks now handling production Lucasfilm joined in creating Star Wars racers as they loved the idea.
List of Cars Available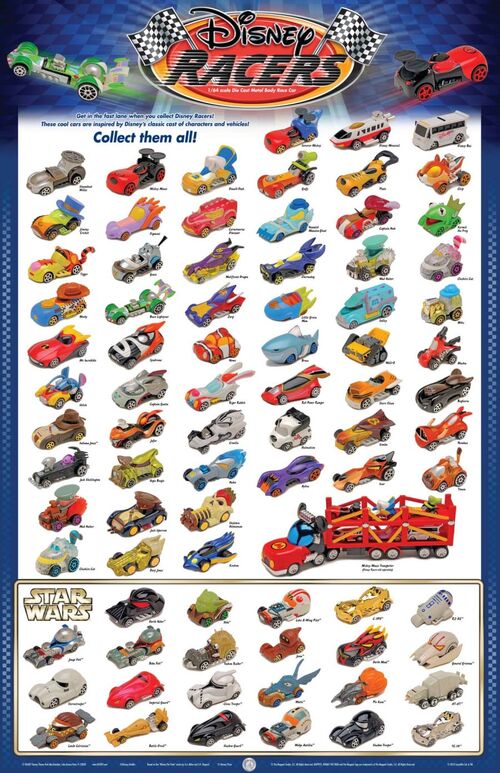 Disney's Wild Racers
When rereleased by the parks, they were sold separately. Waves 1 and 2 were released with vanity plates (all but Timon, Mad Hatter, and Goofy)
Disney Parks
Monorail
Bus
Carnatorus
Haunted Mansion Ghost
Little Green Man
Red Power Ranger
Hydra
Skeleton Helmsman
Kraken
Animal
Jake
Star Wars
Tuskan Raider
Jawa
General Grievous
Stormtrooper
Imperial Guard
Clone Trooper
Watto
Plo Koon
Lando
Battle Droid
Shadow Guard
Wedge
Shadow Trooper
TC-14
Aurra Sing
Ahoska
Bossk
Cad Bane
BB-8
Aurra Sing
Special Sets
Gallery
External Links
http://disneyparks.disney.go.com/blog/2010/12/five-years-of-disney-racers/ http://danalexanderdizmentia.blogspot.com/2010/12/ultra-rare-disney-wild-racers-jungle.html
Ad blocker interference detected!
Wikia is a free-to-use site that makes money from advertising. We have a modified experience for viewers using ad blockers

Wikia is not accessible if you've made further modifications. Remove the custom ad blocker rule(s) and the page will load as expected.