Ad blocker interference detected!
Wikia is a free-to-use site that makes money from advertising. We have a modified experience for viewers using ad blockers

Wikia is not accessible if you've made further modifications. Remove the custom ad blocker rule(s) and the page will load as expected.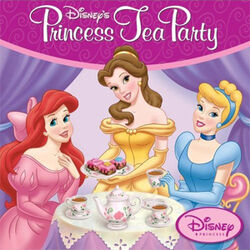 Disney Princess Tea Party is a CD containing new Disney songs sung by the Disney Princesses. It is the audio soundtrack for the DVD of the same name.
The album was released on February 8, 2005, by Walt Disney Records.
Track listing
"Perfect Princess Tea" - Belle (Susan Egan)
"Every Girl Can Be a Princess" - Cinderella (Tami Tappan Damiano)
"I Just Love Getting Dressed For Tea" - Ariel (Jodi Benson)
"So Very Glad You're Here" - Belle (Susan Egan)
"Manners And Etiquette" - Ariel (Jodi Benson)
"Way To Bake (A Delicious Cake)" - Snow White (Melissa Disney)
"Musical Chairs" - Jasmine (Lea Salonga)
"Cups and Saucers" - Mulan (Lea Salonga)
"Princess Dance" - Cinderella, Princess Aurora, Ariel, Belle and Snow White
"Waiting For My Prince" - Princess Aurora (Lesley French)
"Happy Birthday, Princess!" - Ariel (Jodi Benson)
"These Moments We Share" - Pocahontas (Judy Kuhn)
"If You Can Dream" - Cinderella, Princess Aurora, Ariel, Belle, Princess Jasmine, Pocahontas and Mulan (Susan Egan, Christie Hauser, Jodi Benson, Paige O'Hara, Lea Salonga, and Judy Kuhn)
External links
| | |
| --- | --- |
| | This page uses content from the English Wikipedia. The article or pieces of the original article was at Disney Princess Tea Party. The list of authors can be seen in the page history. As with Disney Wiki, the text of Wikipedia is available under the GNU Free Documentation License. |