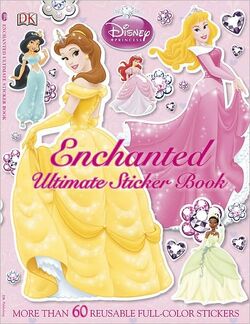 Disney Princess Enchanted Ultimate Sticker Book is a 2010 sticker book featuring the Disney Princess characters.
Product Description
Make all your fairy-tale dreams come true with more than 60 full- color reusable stickers featuring nine magical Disney Princesses.
Product Details
ISBN-13: 9780756666866
Publisher: DK Publishing, Inc.
Publication date: September 20, 2010
Ad blocker interference detected!
Wikia is a free-to-use site that makes money from advertising. We have a modified experience for viewers using ad blockers

Wikia is not accessible if you've made further modifications. Remove the custom ad blocker rule(s) and the page will load as expected.