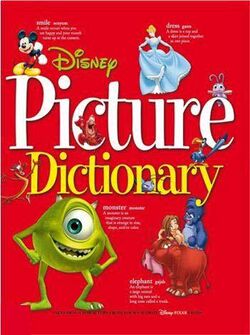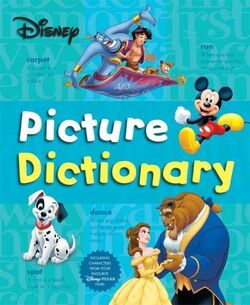 Disney Picture Dictionary is a dictionary featuring pictures of various Disney characters that goes along with the definitions of each word.
Description
Jam-packed with more than 900 entries, the big, colorful Disney Picture Dictionary is designed to help children through several stages of learning. The youngest kids look at the alphabetized words along with pictures featuring their favorite Disney characters to help grasp the meanings. Older children can delve deeper with the definitions accompanying each word and picture, as well as sentences showing usage. The "A" pages feature, for example, "alone," with this definition: "You are alone when you are by yourself." A picture of Lilo (from Lilo and Stitch) lying on a blanket with a record player is captioned: "When Lilo is alone, she likes to listen to her Elvis records." "Horse," "key," "mistake," "sleep," "yesterday," and "zoo" are similarly treated. Characters from Monsters, Inc., A Bug's Life, Toy Story, as well as Mickey Mouse, Ariel, Bambi, and Donald Duck, romp through the book, seeming to jump out of the pages in their enthusiasm to encourage little readers-to-be. An alphabet strip runs down the outer edges of each page for reference. This is a fun first dictionary, not intended to be comprehensive so much as an introduction to the world of words.
Ad blocker interference detected!
Wikia is a free-to-use site that makes money from advertising. We have a modified experience for viewers using ad blockers

Wikia is not accessible if you've made further modifications. Remove the custom ad blocker rule(s) and the page will load as expected.