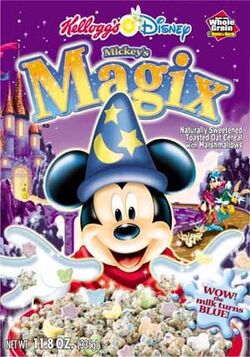 Disney Mickey's Magix was a breakfast cereal made by Kellogg's and Disney in the United States, described by the company as a "naturally sweetened toasted oat cereal with marshmallows." Its box noted a unique feature of the cereal: "Wow! The milk turns blue!" In 2003, along with revised marshmallows, the changing color of milk became purple.
The packaging and cereal themes were based on Mickey Mouse's appearance in "The Sorcerer's Apprentice" segment of the 1940 film Fantasia, or the Disney theme park show Fantasmic!
The cereal was sold in various sizes, including 11.8 ounces, 32.5 ounces, and 1.02 ounces, individually and specially marked.
Another Disney Mickey's Magix product from Kellogg's
Disney Mickey's Magix was also a brand of sandwich cookies that had two circular vanilla wafers with vanilla-flavored creme filling in between. It should also be noted that the frosting was red and green.
| | |
| --- | --- |
| | This page uses content from the English Wikipedia. The article or pieces of the original article was at Disney Mickey's Magix. The list of authors can be seen in the page history. As with Disney Wiki, the text of Wikipedia is available under the GNU Free Documentation License. |