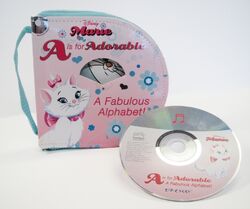 Disney Marie A Is For Adorable A Fabulous Alphabet! is 2007 half book/half purse that teaches children about the alphabet that stars Marie. This book came with a CD with it's own original song "Everyone Loves Marie", and was narrated and sang by Kamala Sankram with music composed by Michael Terry.
Ad blocker interference detected!
Wikia is a free-to-use site that makes money from advertising. We have a modified experience for viewers using ad blockers

Wikia is not accessible if you've made further modifications. Remove the custom ad blocker rule(s) and the page will load as expected.