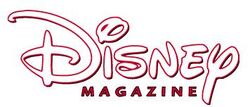 Disney Magazine was an official Disney magazine, that was published quarterly from December 1965 to April 2005.
History
The magazine began life as Disney News in December 1965. The first issue was 16 pages long and the cover showed Walt Disney surrounded by several costumed characters in front of Disneyland's Sleeping Beauty Castle. The magazine was initially a free benefit for members of the Magic Kingdom Club but later started charging a cover price (discounted for members).
The publication changed its name to Disney Magazine in March 1994 to better reflect the increased size and content of the magazine. When Disney ended the Magic Kingdom Club in March 2001, the magazine continued, but circulation numbers began dropping.
Publication ended with the Summer 2005 issue. Subscribers were offered subscriptions to either FamilyFun or Disney Adventures, or refunds. The magazine's website said that the end was due to an increase of people choosing to find information on the Internet, thus leading to a lack of readership.
Cover gallery
External links
| | |
| --- | --- |
| | This page uses content from the English Wikipedia. The article or pieces of the original article was at Disney Magazine. The list of authors can be seen in the page history. As with Disney Wiki, the text of Wikipedia is available under the GNU Free Documentation License. |
Ad blocker interference detected!
Wikia is a free-to-use site that makes money from advertising. We have a modified experience for viewers using ad blockers

Wikia is not accessible if you've made further modifications. Remove the custom ad blocker rule(s) and the page will load as expected.