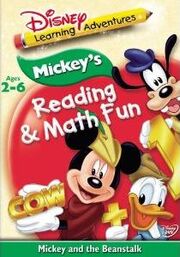 Date: March 22, 2005
Runtime: 78 mins.
Followed by
Disney Learning Adventures: Mickey's Around the World in 80 Days (2005) (V)
Edited from
- Not Mother Goose. Fairy Tales w/Ludwig Von Drake.
Featured in
The Many Adventures of Mickey Mouse (2007)
Ad blocker interference detected!
Wikia is a free-to-use site that makes money from advertising. We have a modified experience for viewers using ad blockers

Wikia is not accessible if you've made further modifications. Remove the custom ad blocker rule(s) and the page will load as expected.