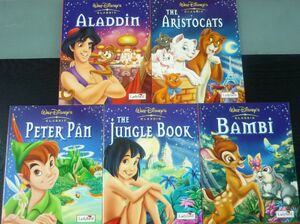 Starting in 1984, Disney had many small books based on their motion pictures published by
Ladybird Books
. They started off as a numbered series of fifteen, but as more movies came out, some received their own series and others were reprinted as Classics, paperbacks, and hardbacks of medium or large size.
They also came in a various series including Walt Disney Classics and Princess.
Disney Animated Movies (1984-2005)
Live-Action Movies
Pixar Movies (1995-2004)
Winnie the Pooh Paperback Series (1991-1992)
The Little Mermaid Series (1994)
Whale of a Tale
Stormy the Wild Seahorse
Urchin
First Disney Books (1995)
Disney's First Words (1995)
Winnie the Pooh: Pooh's Day at Home
Winnie the Pooh Series (1999)
Winnie the Pooh First Readers Series (2001)
Bouncy Tigger
Lost and Found
Lost in the Wood
The Honey Tree
Tiggers hate to Lose
Too much Honey
Winnie the Pooh Action Series (2005)
Pooh's A-Z
Pooh's Baby Action Rhymes
Pooh's Daily Hums
Pooh's Number Fun
Gallery
Ad blocker interference detected!
Wikia is a free-to-use site that makes money from advertising. We have a modified experience for viewers using ad blockers

Wikia is not accessible if you've made further modifications. Remove the custom ad blocker rule(s) and the page will load as expected.