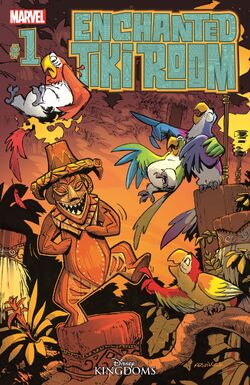 Disney Kingdoms: Enchanted Tiki Room is the sixth miniseries in the Disney Kingdoms line, based on the Enchanted Tiki Room. Written by Jon Adams and drawn by Horacio Domingues, the first issue was published in October 6, 2016.
In contrast to the previous Disney Kingdoms series which had a more focused narrative, the series takes on more of an anthology style with a large ensemble cast with different plot lines that intersect. The series places the Tiki Room on an enchanted tropical island that plays host to numerous visitors. Plot threads include the backstage conflict between the four Macaws, a young volunteer employee named Chip whose eager to break into show business, the rich and materialistic Randy family struggling to learn they can't always buy happiness, a man named Wally working to move on from breaking up with his girlfriend, and an aged and lonely Hollywood actress named Agnes trying to bond with her grumpy dog Alfred now that the island's magic has granted him speech.
Cover Gallery
Ad blocker interference detected!
Wikia is a free-to-use site that makes money from advertising. We have a modified experience for viewers using ad blockers

Wikia is not accessible if you've made further modifications. Remove the custom ad blocker rule(s) and the page will load as expected.