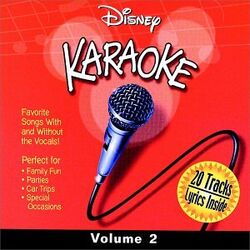 Disney Karaoke Volume 2 is a 2000 Walt Disney Records album featuring karaoke versions of Disney songs.
Details
Audio CD (April 4, 2000)
Original Release Date: 2000
Number of Discs: 1
Label: Walt Disney Records
ASIN: B00004SCEH
Also Available in: Audio Cassette
Track listings
Friend Like Me
Under the Sea
The Bare Necessities
A Whole New World
You'll Be in My Heart
Colors of the Wind
Beauty and the Beast
A Dream Is a Wish Your Heart Makes
Bella Notte
Baby Mine
Friend Like Me [instrumental]
Under the Sea [instrumental]
Bare Necessities [instrumental]
Whole New World [instrumental]
You'll Be in My Heart [instrumental]
Colors of the Wind [instrumental]
Beauty and the Beast [instrumental]
A Dream Is a Wish Your Heart Makes [instrumental]
Bella Notte [instrumental]
Baby Mine [instrumental]
Ad blocker interference detected!
Wikia is a free-to-use site that makes money from advertising. We have a modified experience for viewers using ad blockers

Wikia is not accessible if you've made further modifications. Remove the custom ad blocker rule(s) and the page will load as expected.