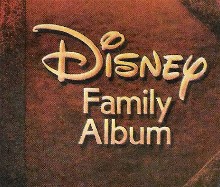 Disney Family Album is a half hour documentary series that aired on the Disney Channel during the 1980s. It is narrated by Buddy Ebsen. The series looked at the artists and performers that helped create Disney's movies and theme parks.
Episodes
No. 1 June 1984: Clarence "Ducky" Nash
No. 2 July 1984: Ward Kimball
No. 3 August 1984: Sherman Brothers
No. 4 September 1984: Jim MacDonald
No. 5 October 1984: Milt Kahl
No. 6 November 1984: Ken Anderson
No. 7 December 1984: Disneyland Designers (on camera interviews with John Hench, Herbert Ryman, Morgan "Bill" Evans and a very young Tony Baxter)
No. 8 January 1985: Eric Larson
No. 9 February 1985: Peter Ellenshaw and Harrison Ellenshaw
No. 10 March 1985: Woolie Reitherman
No. 11 April 1985: Frank Thomas
No. 12 May 1985: Voice Actors (on camera interviews with John Byner, Phil Harris, Will Ryan, Sterling Holloway, Dickie Jones, Paul Winchell, Wayne Allwine, Hal Smith, Alan Young, John Hurt, Kathryn Beaumont, Eva Gabor, Adriana Caselotti and Ward Kimball talking about the voices of the Seven Dwarfs. Dedicated to Clarence Nash.)
No. 13 June 1985: WED Imagineers (on camera interviews with Randy Bright, Bill Justice, Tim Delaney, X. Atencio and Dave Feiten)
No. 14 July 1985: Golden Horseshoe Revue (on camera interviews with Wally Boag, Fulton Burley, Betty Taylor and Dana Daniels)
No. 15 August 1985: Ollie Johnston
No. 16 September 1985: Annette Funicello
No. 17 October 1985: Marc Davis
No. 18 November 1985: The Milottes and the Beebes (True Life Adventures photographers)
No. 19 December 1985: Fess Parker/Buddy Ebsen
No. 20 January 1986: The Storymen (on camera interviews with Vance Gerry, Larry Clemmons and Jack Hannah)
External links
| | |
| --- | --- |
| | This page uses content from the English Wikipedia. The article or pieces of the original article was at Disney Family Album. The list of authors can be seen in the page history. As with Disney Wiki, the text of Wikipedia is available under the GNU Free Documentation License. |
Ad blocker interference detected!
Wikia is a free-to-use site that makes money from advertising. We have a modified experience for viewers using ad blockers

Wikia is not accessible if you've made further modifications. Remove the custom ad blocker rule(s) and the page will load as expected.