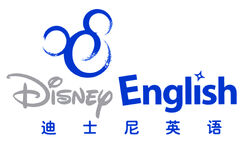 Disney English (迪士尼英语) is the Disney educational program for teaching English as a Second Language (E.S.L.) to children using the Disney characters and stories. The first Disney-operated learning center opened in Shanghai, China in October 2008. The curriculum is developed in the U.S. and taught by native speaking English trainers. The program is designed to help extend Disney's brand in China through childhood marketing.
As of May 2011, there are currently 23 Disney English Learning Centers in China.
Classes are for students ages 2 to 12 and taught by native speaking English teachers and local bilingual teaching assistants. All Disney English foreign trainers are TEFL-C (Teaching English as a Foreign Language to Children) qualified. The innovative program incorporates singing, interactive games, role-play and other fun activities toward engaging children with the language. Classes average only 12 and each child receives individual attention. The program includes teaching Chinese children the names of all of the Disney characters, relevant vocabulary, sentence patterns and common topics in daily Chinese conversation.
The flagship school kicked off their first term on September 19, 2008.
Advisors to the program include Dr Jun Liu, head of the English Department at the University of Arizona; and Dr. Renee Cherow-O'leary, Professor, English Education, Teacher's College, Columbia University.
The program costs 3,000 - 12,000 yuan annually. Classes are taught by a native English speaker, who is assisted by a Chinese-speaking person, and take up 1.5 to two hours each week.
Learning Centers
Edit
Each Disney English learning center has between 5 to 10 classrooms themed to different Disney properties all of which including their interactive "Magic Theater" which combines hardware, audio and proprietary learning content.
The first center, located on Maoming Road in Shanghai, China, was opened in September 2008 and has seven unique classrooms: Snow White, The Lion King, Cars, Peter Pan, Tinker Bell, Winnie The Pooh, and Toy Story.
China now hosts a total of 30 Disney English centers, Beijing has eight, Shanghai has 14, Ningbo has 3, Nanjing and Tianjin have 2, and Suzhou, Hangzhou, and Chengdu each have one.
Company structure
Edit
Disney English is a business unit of Disney Publishing Worldwide which is a division of Disney Consumer Products. Andrew Sugerman is the senior vice president, general manager for Disney English.
Counterfeit schools
Edit
With the launch of the Disney owned program, several unauthorized schools using the Disney name or characters have been closed.
Notes and references
Edit
External links
Edit
| | |
| --- | --- |
| | This page uses content from the English Wikipedia. The article or pieces of the original article was at Disney English. The list of authors can be seen in the page history. As with Disney Wiki, the text of Wikipedia is available under the GNU Free Documentation License. |