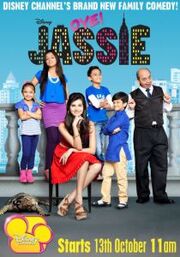 Disney Channel
is an Indian television channel, and a division of Disney India, specializing in television programming for children through movies and third party programming. In
2004
, Disney Channel India began airing in India. Currently, it is marketed towards small kids. The channel is very popular among children between 5–8 years of age, which previously was 5–20 years of age. Disney Channel is available on cable and satellite television. The channel is based in Mumbai, Maharashtra, India. Disney Channel India is the first cartoon channel to cross 200+ GRPs in 5 years. Programming is available in four languages (English, Hindi, Tamil and Telugu).
History and availability
Before becoming a channel in India, Disney was a block on Sony TV, known as "Disney Hour" and "Disney Mornings"; later, Disney Channel was also on Star Plus and Zee TV. Now, it is also available on Tata Sky (channel 609), Dish TV (channel 523), BigTV (channel 603), and Airtel Digital TV (channel 360). On digital cable services, it is additionally available on DEN Digital (channel 407) and Hathway Cable (channel 410).
Disney Junior
Playhouse Disney started airing in 2006,as a block on Disney Channel. On 4 July 2011, it was replaced by Disney Junior. Disney Junior later in 2013 became a 24-hour channel dedicated to kids. Its available on various DTH and cable operators.
Programming
At first the channel aired US programming such as Lizzie McGuire, That's So Raven, The Suite Life of Zack & Cody, Hannah Montana, Wizards of Waverly Place, Sonny with a Chance, The Suite Life on Deck, Jonas LA and Phineas and Ferb.
In 2006, Disney Channel launched its first original live-action show Vicky Aur Vetaal, which became a hit. It started to produce more original content such as Agadam Bagdam Tigdam, Dhoom Machaao Dhoom, Break Time Masti Time, Kya Mast Hai Life, and Ishaan. In 2010 an Indian version of Art Attack was made. Eventually, American shows such as Hannah Montana and The Suite Life on Deck were cancelled due to low ratings[4] and The Suite Life on Deck. Doraemon got transferred from Hungama TV to the channel.
In 2011, launched Best of Luck Nikki which is a local version of Good Luck Charlie. Due to its success, The Suite Life of Karan & Kabir (adaptation of The Suite Life of Zack & Cody), Disney Q Family Mastermind (adaptation of Mastermind India), Shake It Up (India) (adaptation of Shake It Up), and Oye Jassie (adaptation of Jessie) were created.Currently the only American shows airing are Phineas and Ferb, Gravity Falls, Mickey Mouse.
Now, in 2014 the channel is making a horror-comedy film Life In A House starring Yugvijay Tiwari.