Ad blocker interference detected!
Wikia is a free-to-use site that makes money from advertising. We have a modified experience for viewers using ad blockers

Wikia is not accessible if you've made further modifications. Remove the custom ad blocker rule(s) and the page will load as expected.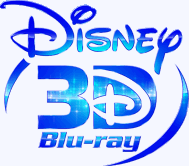 Disney Blu-ray 3D are Disney Blu-ray movies that can be watched on a 3DHD TV. Not included in the following list are Touchstone Pictures, Marvel Studios or Lucasfilm films as those release do not contain the Disney Blu-ray 3D label.
Releases
Cover
Film
Released
Returned to the Disney Vault
A Christmas Carol
November 16, 2010
Alice in Wonderland
December 7, 2010
Tangled
March 29, 2011
TRON: Legacy
April 5, 2011
Mars Needs Moms
August 9, 2011
The Nightmare Before Christmas
August 30, 2011
The Lion King: Diamond Edition
October 4, 2011
April 30, 2013
Beauty and the Beast: Diamond Edition
April 30, 2012
Pirates of the Caribbean: On Stranger Tides
October 18, 2011
Toy Story
November 1, 2011
Toy Story 2
Toy Story 3
Cars 2
Chicken Little
November 8, 2011
Meet the Robinsons
Bolt
G-Force
John Carter
June 5, 2012
Ghosts of the Abyss
September 11, 2012
Secret of the Wings
October 23, 2012
Brave
November 12, 2012
Finding Nemo: Ultimate Collectors Edition
December 4, 2012
Up
Frankenweenie
January 8, 2013
Monsters Inc.: Ultimate Collectors Edition
February 19, 2013
Wreck-It Ralph: Ultimate Collectors Edition
March 5, 2013
Oz the Great and Powerful
June 11, 2013
The Little Mermaid: Diamond Edition
October 1, 2013
January 31, 2017
Monsters University
October 29, 2013
Cars
Planes
November 19, 2013
Inside Out
November 3, 2015
The Good Dinosaur
February 23, 2016
Zootopia
June 7, 2016

Finding Dory
November 15, 2016




The Jungle Book
August 22, 2016 (Foreign Release)
November 15, 2016 (American Release)
From this point onward, most releases are international only; all dates given are of the earliest 3D release dates.
Frozen
March 14, 2014

Ratatouille
July 16, 2014
Maleficent
September 19, 2014
Planes: Fire & Rescue
November 7, 2014

Big Hero 6
March 3, 2015

The Finest Hours
June 5, 2016
See also
External links
Walt Disney home video releases