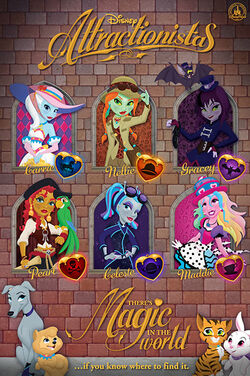 Disney Attractionistas is a doll collection that is created especially for Walt Disney World Resort and Disneyland Resort. Disney Attractionistas are special friends that love to be together at the Disney Parks every chance they get. Each has wished to always be part of their favorite attraction, and that it could be a part of them. Once their wishes came true, they were magically transformed with attire inspired by those various attractions.
The Dolls
Ad blocker interference detected!
Wikia is a free-to-use site that makes money from advertising. We have a modified experience for viewers using ad blockers

Wikia is not accessible if you've made further modifications. Remove the custom ad blocker rule(s) and the page will load as expected.