Disney's Stars 'n' Cars
Comments

0
19,103pages on
this wiki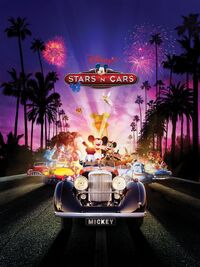 Disney's Stars 'n' Cars
 is a show taking place at the Walt Disney Studios Park in Disneyland Paris.
About
Come and share in the magic of the movies as the Disney Stars make their way through the park in a motorcade of music and fun. Watch as all your favorite pals leave their vehicles and perform all the greatest Disney classic songs. Finally have your autograph books at the ready as you never know who may stop and sign before they leave in the cavalcade again! Stars 'n' Cars echoes the bygone days of the golden age of film making, and the stars arriving at the movie premieres in their expensive vehicles - only this time those vehicles have a Disney twist! So roll out the red carpet and get your cameras at the ready for Disney's Stars and Cars!
The Characters meet their fans during the show while they are waiting for their song. Once they have all performed, the Characters leave again aboard their vehicles, so be sure to catch them as they go past! The Characters may also appear throughout the day at selected times (usually around lunch time). All the Stars and Cars friends will come out from the gate between Cinemagique and Studio 1 for a short time and spread themselves around the park.
Characters