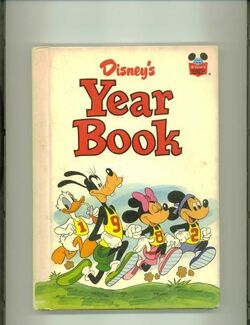 Disney's Year Book 1982 is a Disney's Wonderful World of Reading book made for the year 1982.
Contents
The Year of the Space Shuttle (page 6)
Bird-Brained Birdwatchers (page 14)
A New Kind of Children's Zoo (page 26)
Quicker Than a Wink (page 32)
The Stolen Crown (page 38)
Nature's Faces (page 50)
Heart-to-Heart Talk (page 55)
Pretty Pots (page 60)
Bad Luck for Lucky (page 66)
It's a Snap (page 78)
Never Pet a Porcupine (page 80)
Peter Pan's Growing Pains (page 84)
Details
Hardcover: 95 pages
Publisher: Robert B. Clarke (1982)
ISBN-10: 0717281310
ISBN-13: 978-0717281312
Ad blocker interference detected!
Wikia is a free-to-use site that makes money from advertising. We have a modified experience for viewers using ad blockers

Wikia is not accessible if you've made further modifications. Remove the custom ad blocker rule(s) and the page will load as expected.