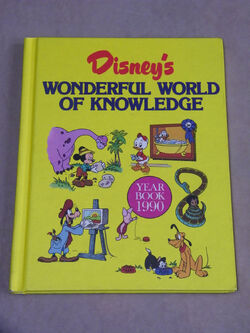 Disney's Wonderful World of Knowledge Year Book 1990 is a Disney's Wonderful World of Knowledge book made for the year 1990.
Details
Unknown Binding: 124 pages
Publisher: Grolier Enterprises, Inc.; 1ST edition (1990)
Language: English
ISBN-10: 0717282414
ISBN-13: 978-0717282418
Ad blocker interference detected!
Wikia is a free-to-use site that makes money from advertising. We have a modified experience for viewers using ad blockers

Wikia is not accessible if you've made further modifications. Remove the custom ad blocker rule(s) and the page will load as expected.