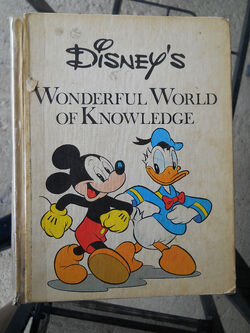 Disney's Wonderful World of Knowledge is a series of children's encyclopedias published by Danbury starting in 1971. It featured illustrations with the characters from the Mickey Mouse and Donald Duck cartoons and comics, the Silly Symphonies, and some of the early animated features.
Books
Ad blocker interference detected!
Wikia is a free-to-use site that makes money from advertising. We have a modified experience for viewers using ad blockers

Wikia is not accessible if you've made further modifications. Remove the custom ad blocker rule(s) and the page will load as expected.