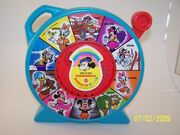 Disney's Wonderful World of Color
is a Disney based toy by Mattel inc. (As part of See 'N Say). Each Disney character (
Mickey Mouse
,
Minnie Mouse
,
Donald Duck
,
Daisy Duck
, and
Goofy
) demonstrates different colors and their items.
Color and Dialog
You point with the pointer to a picture and then you pull the string (or in 1983, the lever). The sound is played when the pointer spins around. Different pictures makes different sound file.
Announcer: PURPLE!
Minnie Mouse: These Purple Grapes are Delicious .
Announcer: WHITE!
Goofy: Uh, Snow is White. (Goofy's Laugh)
Announcer: ORANGE!
Daisy Duck: (As she pours a cup of Juice) The Juice is Orange.
Announcer: GREEN!
Donald Duck: The Tree is Green.
Announcer: BLACK!
Mickey Mouse: Aha! My Ears are Black.
Announcer: PINK!
Minnie Mouse: I just love this new pink dress.
Announcer: BROWN!
Donald Duck: My Teddy Bear is Brown.
Announcer: BLUE!
Goofy: The sky is blue, And so as my balloon.
Announcer: YELLOW!
Daisy Duck: My Little Bird is Yellow. (Bird chirps)
Announcer: RED!
Mickey Mouse: My Fire Engine is Red. (Horn Honks)
Ad blocker interference detected!
Wikia is a free-to-use site that makes money from advertising. We have a modified experience for viewers using ad blockers

Wikia is not accessible if you've made further modifications. Remove the custom ad blocker rule(s) and the page will load as expected.