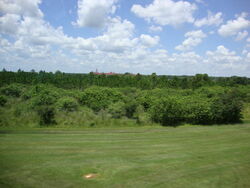 Disney's Venetian Resort was to be a Disney-owned Deluxe resort to be located at Walt Disney World in Lake Buena Vista, Florida, that originally would have begun operation on October 1, 1971. It was going to be themed after Venice, Italy, located on Seven Seas Lagoon. Due to the 1973 Oil Embargo, the resort, along with Disney's Asian Resort and Disney's Persian Resort were never built. In the late 1980s to early 1990s, Michael Eisner saw how well Disney's Grand Floridian Resort was doing and wanted an even better resort. The idea for the Venetian was scrapped for Disney's Mediterranean Resort. The location of the Venetian Resort was selected for the Mediterranean as well. Unfortunately, it was found the location chosen would have needed an extremely deep foundation. The land in the late 1990s was even cleared for the building.
The resort would have been located between the Transportation and Ticket Center and Disney's Contemporary Resort near the water bridge.
Resort facts
Category: Deluxe
Theme: Venice, Italy
Location: Magic Kingdom Resort Area
Original Opening Date: October 1971 (never built)
See also
| | |
| --- | --- |
| | This page uses content from the English Wikipedia. The article or pieces of the original article was at Disney's Venetian Resort. The list of authors can be seen in the page history. As with Disney Wiki, the text of Wikipedia is available under the GNU Free Documentation License. |
Ad blocker interference detected!
Wikia is a free-to-use site that makes money from advertising. We have a modified experience for viewers using ad blockers

Wikia is not accessible if you've made further modifications. Remove the custom ad blocker rule(s) and the page will load as expected.