Ad blocker interference detected!
Wikia is a free-to-use site that makes money from advertising. We have a modified experience for viewers using ad blockers

Wikia is not accessible if you've made further modifications. Remove the custom ad blocker rule(s) and the page will load as expected.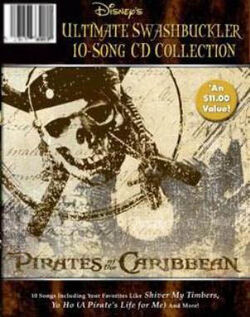 Disney's Ultimate Swashbuckler 10-Song CD Collection is an exclusive CD by Walt Disney Records in 2006 featuring music inspired by the movie series Pirates of the Caribbean. It was sold exclusively at Wal-Mart stores as a bonus disc packaged with the initial DVD release of Pirates of the Caribbean: Dead Man's Chest. The CD features 10 pirate songs sung by the "Pirates of the Black Tide" singing ensemble. The album was produced by Ted Kryczko and Jeff Sheridan. Two songs from Muppet Treasure Island were included.
Track listing
A Pirate's Life
The Legend of Davy Jones: Forty Fathoms Below
Yo Ho Ho! (and a Bottle of Rum)
Blow the Man Down
The Pirate King
Pirates of the Black Tide
A Whale of a Tale (Sung by Kirk Douglas from 20,000 Leagues Under the Sea)