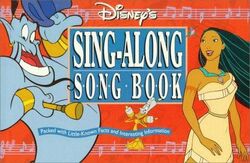 Disney's Sing-Along Song Book is a 1995 Disney songbook featuring sing-along versions of classic Disney songs. It was updated in 1997 to feature songs from then-recent Disney films, including Toy Story, The Hunchback of Notre Dame and Hercules.
Songs included are as follows:
Contents: Love is a song -- Zip-a-Dee-Doo-Dah -- Everybody Has a Laughing Place -- Lazy countryside -- Pecos Bill -- Lavender blue (Dilly dilly) -- A dream is a wish your heart makes -- Bibbidi-bobbidi-boo (The magic song) -- I'm late -- The unbirthday song -- You can fly! You can fly! You can fly! -- Never smile at a crocodile -- Your mother and mine -- The ballad of Davy Crockett -- The Siamese cat song -- Bella notte -- Mickey Mouse march -- Annette -- Quack! Quack! Quack! Donald Duck -- Theme from Zorro -- Once upon a dream -- Cruella De Vil -- Let's get together -- It's a small world -- There's a great big beautiful tomorrow -- A spoonful of sugar -- Supercalifragilisticexpialidocious -- Chim chim cher-ee -- Winnie the Pooh -- The wonderful thing about tiggers -- The bare necessities -- I wan'na be like you (The monkey song) -- Under the sea -- Part of your world -- Gaston -- Be our guest -- Beauty and the beast -- Arabian nights -- A whole new world -- Hakuna Matata -- Can you feel the love tonight -- Colors of the wind -- Just around the riverbend.
The second edition adds the following:
You've got a friend in me -- Out there -- A guy like you -- Go the distance -- Zero to hero.
Details
Paperback: 128 pages
Publisher: Disney Editions (May 18, 1995)
Language: English
ISBN-10: 078688102X
ISBN-13: 978-0786881024